Featured News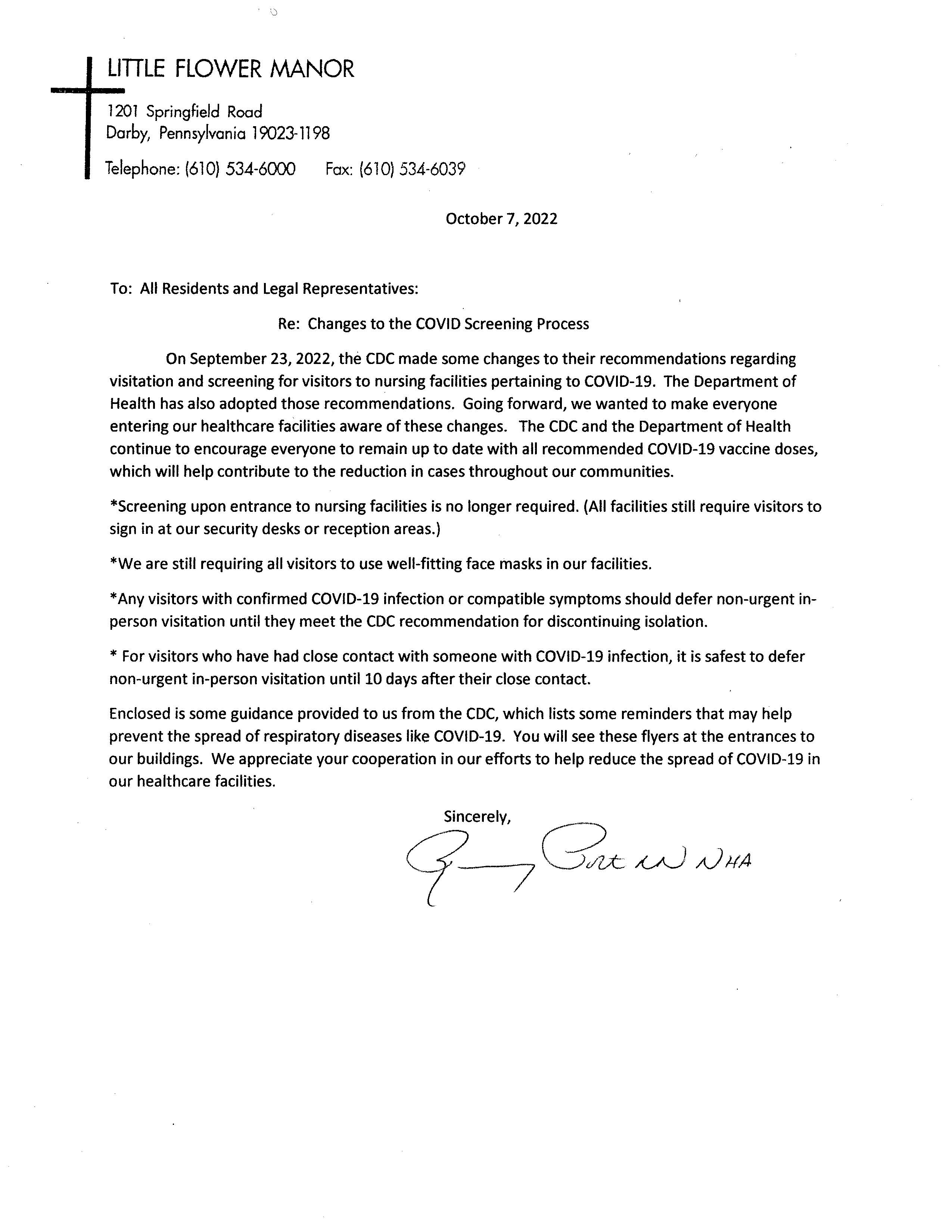 Little Flower Manor continues focused efforts to protect the safety and well-being of our residents. We are firmly committed to our Safe Care principles, as well as all practices and protocols endorsed by the Centers for Disease Control and Prevention and the PA Department of Health. Additionally, we remain dedicated to keeping you informed of the impact of COVID on the status of our long-term care operations and policies, including visitation. For the most up-to-date information please call our 24-hour hotline at 215-344-9426. Additionally, please note that conditions remain fluid which at times may cause abrupt change to policies. We try to bring you immediate information as conditions change and appreciate your patience and support.
For the latest information re: how Little Flower is handling COVID-19:
Please call 215.344.9426 for a daily update from our Administrator, Rosemary Port RN, NHA.
You may also check our Facebook page for updates.
Here is a list of Strategies for Prevention of COVID-19 that we have implemented, following the recommendations of the Federal government and the PA Department of Health:
Monitoring of residents for temperature elevation or changes in pulse oximetry readings
Visitor Restriction as per CDC, CMS and DOH guidelines
Social Distancing
Communal Dining as per CDC, CMS and DOH guidelines
Virtual Activities/ Communication with Residents and Family Members
Employee/ Essential Non-Employee Screening through Main Entrance
Masking for residents when they leave their rooms for any reason
Creation of a COVID-19 Isolation Unit/ Observation Unit for any positive or suspected positive COVID-19 residents
Fit-testing of N-95 masks
N-95 masks, isolation gowns, gloves and face shields for use with COVID-19 residents
Proper personal protective equipment (PPE) for use with non-COVID-19 residents
Sanitizing high touch surfaces in the building twice daily
Inservicing of all departments on the proper donning and doffing of personal protective equipment (PPE) and proper hand hygiene technique
Monitoring employee callouts for any COVID type symptoms that may require testing for the virus and follow up with Occupational Health at Holy Redeemer
Pre-employment screening now to include testing for COVID-19 prior to start date
All admissions to facility must be tested 48 hours prior to admission for COVID-19
Alcohol-Based Hand Rub (ABHR) dispensers are available at the entrance, the hallways and each resident room
ProTex90 Sanitizing Treatment throughout our building
COVID testing per CMS and DOH guidelines